Red Pants are massively trending these days. Red bottoms will make you look sexy, stylish and stand out from the crowd. Though some ladies are shy to wear this bold bottom or sometimes they are confused about what is the appropriate pair for a red pant. You can wear lots of different styled tops with your red pants if you choose them appropriately. From a formal office look to a casual hangout red pants will give you a dazzling and confident look instantly.
Here we bring some fantastic eye-catching ideas you can definitely try in both winter and summer to glam up your bright red pant.
What to Wear With Red Pants
Off Shoulder Tops
Off shoulder, tops can be the true match of your red pant for summer. This outfit is fun to wear and looks cute and lovely.
Denim Shirts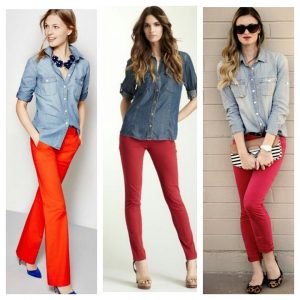 Red pants with a denim shirt is a classic outfit idea that can be worn in the office to look sophisticated and other casual events as well. This pairing will give you a fresh and beautiful look in summer and spring.
Polka Dot Shirts
Polka dot shirts are ideal wear that goes well for both work and casual wear. And plus point you can wear any color polka dot shirts with skinny to bell bottom red pants.
Basic Tees
T-shirts are the easiest way to create unlimited trendy looks. During summer pick your sexy red pant with a t-shirt of any style which fits you well and you are ready to rock.
Leather Jackets
Black leather jackets match with everything but you can choose brown, pastel or any colorful jackets to pair with your spring tops and red skinny pants or palazzos to give your look a stylish twist.
Animal Print
For a wild and daring look, you can wear an animal print sleeveless top with red denim for a stylish summer casual appearance.
Pullovers
Choose all red for your pullover and bottom both and your outfit will turn into a completely trendy one. Go for any other subtle color as well to look stunning in winter without being overdone.
Striped Tops
Striped top and red pant combo is the coolest fashion ever for spring and summer. A simple but totally amazing look!
Blazers
For a powerful look wear black, white or any muted color blazer with the red bottom. This is the perfect office wear which looks effortlessly stylish and elegant.
Crop Tops
A simple crop top looks gorgeous when it is paired with a hot red pant. For a classy and chic look pick a high waisted red pant.
Well, these are some coolest, versatile and fun ways to wear your red pant in any season to look elegant, classy and playful all day long. Give them a try to be the center of attraction wherever you go.