Red Pants are massively trending these days. Red bottoms will make you look sexy, stylish, and stand out from the crowd. Though some ladies are shy to wear this bold bottom, or sometimes they are confused about what is the appropriate pairing for a red pant, you can wear lots of different styled tops with your red pants if you choose them appropriately. From a formal office look to a casual hangout, red pants will give you a dazzling and confident look instantly.
Here we bring some fantastic eye-catching ideas you can definitely try in both winter and summer to glam up your bright red pants.
What to Wear With Red Pants
Sequin Red Pants Outfit
If you are fed up with cocktail dresses, try something new. Sequin red wide-legged pants with a red crop top and a red sequin coat will make you look mesmerizing in a crowd. The best thing about this outfit is that you can look super sophisticated, then transform into looking spicy hot by removing the coat. With this outfit, you are certain to grab some eyeballs. Wear red heels, though if you plan to dance, you might want to wear flats.
Poncho
Ponchos are winter necessities. You cannot spend an entire winter without trying a poncho look. This winter, get spiced up with a bold red poncho over red pants. Melt the cold weather with this hot outfit. You can wear this outfit on a winter morning walk date. By the way, if you haven't been on a winter morning walk date, you should schedule one as soon as possible. There is nothing more aesthetically pleasing than the ambiance at that time. The environment makes things 10 times more romantic, and your outfit will work some magic. Wear red or black sneakers to finish the look.
Hoodie
Hoodies are cool clothes. Be cool in the cold by wearing a pastel hoodie over bold red pants. The calm of the pastel color and the boldness of the red pants will give you the sort of stormy look that you desire. Wear this cutely bold outfit with white sneakers for a walk down your street or a workout. While this outfit is a stunner, avoid wearing it to a party, as it is too casual for that.
Oversized Sweater
You can never go wrong in the winter with an oversized sweater. A white oversized sweater with spicy red pants will set the perfect mood for a refreshing winter afternoon. Go to lunch with your friends or colleagues wearing this and make a perfect impression. Your fashion speaks for your personality. This outfit will make you look like the boldly sophisticated person you are. Choose white sneakers and a black bag to complete the look.
Puff-Sleeve Top
If you are wondering what new fashion is on-trend right now, I'd say PUFF SLEEVES! Wear a black ball-print puff-sleeve top with hot red pants. The combination is deadly. You can rock a gathering with this outfit, be it formal or informal. A black leather belt around your waist will make the look sexier. Pull your hair into a high ponytail to make the look bolder and pair the outfit with black heels and a black bag.
Off Shoulder Tops
Off shoulder, tops can be the best match for your red pants for summer. This outfit is fun to wear and looks cute and lovely.
Denim Shirts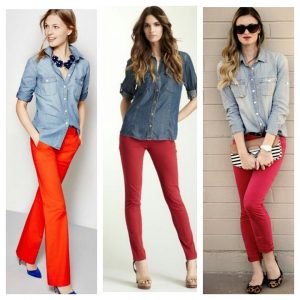 Red pants with a denim shirt is a classic outfit idea that can be worn in the office to show an offhand sophistication and to other casual events as well. This pairing gives you a fresh and beautiful look in summer and spring.
Polka Dot Shirts
Polka dot shirts are fun wear that goes well for both work and casual activity. A plus point is you can wear any color polka dot shirt with skinny to bell bottom red pants.
Basic Tees
T-shirts are the easiest way to create unlimited trendy looks. During summer, pair your sexy red pants with a t-shirt of any style which fits you well and you are ready to rock.
Leather Jackets
Black leather jackets match everything, but you can choose brown, pastel, or any colorful jacket to pair with your spring tops and red skinny pants or palazzos to give your look a stylish twist.
Animal Print
For a wild and daring look, you can wear an animal print sleeveless top with red denim for a stylish summer casual appearance.
Pullovers
Choose all red for both your pullover and bottom and your outfit will turn into a completely trendy one. Go for any other subtle color as well to look stunning in winter without being overdone.
Striped Tops
A striped top and red pant combo is the coolest fashion ever for spring and summer. A simple but totally amazing look!
Blazers
For a powerful look wear black, white or any muted color blazer with the red bottom. This is the perfect office wear which looks effortlessly stylish and elegant.
Crop Tops
A simple crop top looks gorgeous when it is paired with a hot red pant. For a classy and chic look pick a high waisted red pant.
What Colored Outfits to Choose with Red Pants
Color coordination is crucial when you dress up. Color attracts attention and creates an emotional connection. The chemistry of colors is essential in fashion. Your outfit color can also influence the way you feel and think. With the help of bright clothes, you can portray your feelings and confidence. The right color will help you grab people's attention. Additionally, it represents who you really are. Red is one of the boldest colors. You could call it "the color of love" or "the color of blood." Let's find out which colors look gorgeous with red. What colored tops can you wear with red pants?
Pink Stylish Top
Fashion has evolved. Bold and beautiful is the current mantra. A pretty pink top with high-waisted red pants will make a bold fashion statement. Red is one of the most alive and powerful colors, whereas pink is a soft and calm shade. Their chemistry is like that of fire and ice. Surprisingly, these colors
look amazing
together. This combo is the perfect example of "opposites attract." Red heels and a red bag will add to the majesty of the outfit.
Purple and Red
People think vibrant colors shouldn't be worn in a formal environment. I cannot stress enough how inappropriate that thought is. Vibrant colors scream confidence, and you definitely want to look bold and confident in a business or work environment. Purple and red are both lively and vibrant colors. You might think they won't coordinate well, but they have blazing chemistry. A purple top with red pants looks refreshing and vibrant. Pair your outfit with purple heels and a red purse.
Blue Meets Red
For a casual look, try this combination of colors. Blue looks fine with red, but you might want to check the shades before wearing these colors together. Not all shades of blue and red look right. However, this Egyptian blue top complements the red pants perfectly. Wear this outfit for casual occasions and pair it with red heels.
 

Silver
When metallics are concerned, nothing can beat silver. The icy hue makes the red look even more vibrant and lively. A shiny silver top with red leather pants will set the right tone for a disco party. Prepare to take everyone's breath away with your amazing fashion statement. Pair the outfit with black heels and you'll be ready to party the night away looking like the coolest girl in the crowd.
Black and Red Screams Chemistry
There is no way we can talk about color combinations and leave out black. Black looks grand with any color. Combining two intense colors like red and black creates a balance in your outfit. You can look sober and sophisticated with red and black, or you can adopt a more fierce look. It depends on what shade of red you wear. A black top with red leather pants will set the bar high. This outfit above is for people who love bold fashion. You can easily wear this outfit to a business meeting and seal the deal with uncompromising confidence. Pair it with black heels and a red purse.
Well, these are some cool, versatile, and fun ways to wear your red pants in any season to look elegant, classy, and playful all day long. Give them a try and be the center of attraction wherever you go.