Brandy Melville, a fashion store, completely dedicated to the fashion needs of young girls only. It started in Italy in 1970. Despite being an Italy based brand Brandy Milvelle is doing incredible in the USA too. You are going to find everything out here like dresses, tops, bottoms, outerwear, accessories, etc. Their collections are fresh, cool, casual, and, most importantly, affordable to the young audience.
If you love the brand, you probably search for similar brands like Brandy Melville. And to help you out on that, we have listed top best clothing stores like Brandy Melville here to keep your fashion game on. Let's have a look.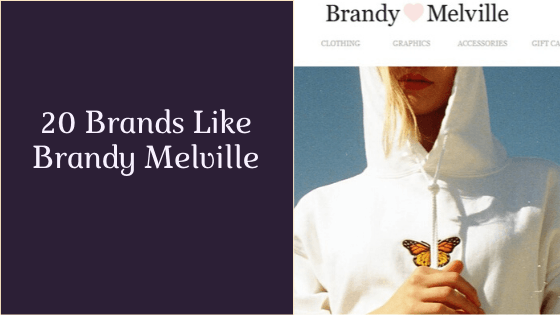 Stores Like Brandy Melville
Stores Like
Brandy Melville
Free Shipping
(USA)

International
Free Shipping

Standard Delivery
Exclusive Feature
American Eagle Outfitters
Order $50+
No
3-5 Days
Take 25% Off Your First Purchase & an Extra 10% Off Future Purchases.
Missguided
N/A
N/A
3-5 Days
30% Student Discount
AllSaints
Order $250+
Order $350+
3-5 Days
Sign up & Enjoy 15% Off of Your First Order
Bershka
N/A
N/A
4-8 Days
Sign up and We'll Treat You to a 3-Month Subscription
Nasty Gal
N/A
N/A
Up to 7 Days
Shop now Pay later
Charlotte Russe
Order $99+
No
3-8 Days
Sign up and Get Exclusive Offer
Prettylittlething
N/A
N/A
5-7 Days
Return Your Unwanted Clothes And Get Discount On Next Purchase
Showpo
Order $50+
N/A
2-7 Days
Enjoy 10% Students Discount
New Look
With Delivery Pass
Order $65+
2-4 Days
Get 20% Student Discount
Nobody's Child
Order $50+
Order $150+
Upto 10 Days
Get 15% Off For First Order
Tobi
Order $75+
N/A
3-5 Days
Enjoy Tobi Scholarship Program
Abercrombie & Fitch
Order $150+
No
5-8 Days
E-Cards have no Expiration Date.
Asos
Order$47+
N/A
2-10 Days
10% Student Off
Forever21
Order $50+
N/A
1 Day
15% OFF in APP Buy
Urban outfitters
Order $50+
N/A
5-7 Days
UO Rewards Members
PacSun
N/A
N/A
7 Days
Enjoy myGSOM Reward Benifits
Reformation
Yes
N/A
5-7 Days
Get Free Returns and Easy Exchange
Fashion Nova
Orders Over $75
Over $125
2 - 3 Days
Buy Now/Pay Later
Revolve
N/A
Order $100+
4-8 Days
Get Redeem by Clicking add Button
American Apparel
Order $75+
N/A
2-9 Days
Invite Friends and Get $15
American Eagle is our first choice for the best alternative to Brandy Melville if you love casual-cool staples. Based in Pennsylvania, USA, and features effortless trendy clothes, accessories, and personal care products. From flared jeans to amazing hoodies, they have everything for cool American girls.
The next pick for the list of shops like Brandy Melville is Misguided. It is a forward-thinking British fashion Brand that is inspired by real life. They bring 1000 new styles every week. It delivers everything to be a girl on the go. Their mission is to empower women and let them be what they want to be.
All Saints, another British fashion retailer which is a lot like Brandy Melville. It has an excellent selection of items you can wear every day. Crafted from luxurious fabrics to keep you the best dressed for any occasion. Their clothes are designed to flatter you.
This brand is a good option for youth-focused fashion. Their audience is adventurous young people who love music, social media, and new technologies. They are known for always staying on top of the latest trends.
Nasty Gal based in Los Angeles, the USA branded for rebellious fashion for nasty women! The name came from Betty Davis's song, "Nasty Gal." The brand is famous for both contemporary and vintage styles. It's the ultimate place 'just to be yourself.'
This is another brand that will satisfy all young women as a substitute for Brandy Melville. They have a wide range of the latest trends for clothing, footwear, and accessories to choose from. With the most reasonable pricing, 'Charlotte Russe' is a must-visit place for every woman to feel her best.
Pretty Little Thing brings the runway's hottest fashion at the most affordable price. Whatever your budget would be, they promise to serve with the latest trend to keep you best dressed. At PLT, your wallet will thank you for awesome styles for almost everything.
Shopwpo has everything from a pretty A-line dress to exclusive shoes. They based in Australia and a fun place for unique styles. Along with clothing and footwear, it provides beauty products from top brands. You will love to check out this brand if you are looking for similar stores like Brandy Melville. Both of them bring essential styles for each season.
New Look just won't come to offer you a new outfit; it'll come with a new event and all the excitement that comes with it. They launched in the UK and now operating around the world. Every week they add 800 new products to their website and always stay one step ahead of the latest trends for young men and women.
This brand specializes in creating styles that benefit people and minimize the impact on the environment. Based in London and their collections are quite similar to Brandy Melville. They are committed to reduce textile waste and give people a better life.
Shops Like Brandy Melville
Tobi, based in California, USA, also has an excellent selection for items you can wear every day. It offers thousands of styles, including trendy crop tops to sexy formal dresses. They also incorporate the latest fashion inspired by California flair! They aim to encourage young women to be the best version of themselves.
This American brand is synonymous with quality. Abercrombie & Fitch is a good pick for stores similar to Brandy Melville for its casual and classic clothing selection. From best-fit jeans to excellent personal care and everything in between A & F is loved by everyone since 1892.
ASOS will honor you to look your best. It is a British clothing and accessories brand for both men and women, which is famous for its rebellious vibes. The brands' popular products are clothing, shoes, beauty, gifts, home living, etc. They regularly introduce new products and well appreciated by the customers.
A well-known fashion retailer, Forever21, is an American clothing brand which is engaged in designing trendy stuff for the young generation. It is prominent for its fast-fashion clothing. They produce a massive range of products for all your upcoming festivals and events at the most affordable price. Forever21 could be one of the top alternatives for Brandy Melville.
Urban outfitters bring retro, vintage, and other non-mainstream fashion for men and women and also regarded as top Brandy Milvelle competitor. Their designs and modern and casual that suit to young age group. They have more than 200 stores located in North America and Europe.
Pacsun is another top American youth-oriented clothing retailer you will love to shop from. Apart from the clothing, they have a variation of home décor and gift items. It is one of the high stores like Brandy Melville, which is dedicated to young people and their choice of style.
Reformation is the perfect place for young girls and women because it offers effortless silhouettes that celebrate the feminine figure. It carries casual to formal wear and even bridal collection. Reformation has gained a tremendous amount of reputation because of quality reasons. If you are looking for other sites like Brandy Melville, then Reformation is a great choice.
Fashion Nova is an excellent option for you to be your fashion icon. It offers a full bunch of fashionable wear and significantly similar to Brandy Melville in terms of superb products at an affordable price. This brand has attracted a lot of younger generations because of the enormous variety and affordable cost.
Revolve is one of the popular choices that are ahead of the trend. The company is based in Los Angeles and has everything from basics to wedding collections from over 500 brands. Their contemporary designs and multiple choices made them liked by celebs and fashionistas around the world.
This is our last pick for stores similar to Brandy Melville. It has a large number of comparable styles to BM. It started in North Carolina then moved to Los Angeles. Now it spotlights LA culture, which is preferred by modern generation consumers. If you have been looking for a less expensive similar option to Brandy Millville, American Apparel is your ideal place to check out.
Final Word
It's good to have options so that you can compare and find out the best for yourself. If you want a break from BM, you can consider our above-mentioned stores like Brandy Melville, for similar yet more diverse collections on your fingertips.