Our mothers surely remember the time when they were using curlers to curl their hair. They would leave them in the whole night to get lovely curls in the morning. Well, guess what? That is in the far past now. With the hot air brush, you can have lovely waves, curls or a very smooth hairstyle in a few minutes. Here's a review of some of the best hot air brushes.
Best Editorial Choice
[amazon box="B01LSUQSB0″ template="horizontal"]
[amazon box="B00BJEOITU" template="horizontal" ]
What is The Hot Air Brush?
This lovely hair product emits hot air through the brush, or it has an iron with bristles. It does two things at the same time. You are blow-drying your hair while still creating your hairstyle! You can use the brush blow dryer while drinking your morning coffee or even reading your emails. It is much more practical than anything else, while the results are still surprising.
Comparison of Technical Characteristics of Best Hot Air Brush
[amazon table="3180″]
Best Hot Air Brush for Short Fine Hair
Best for Medium to Long Hair
2 Heat Settings with Cool Setting

Spreading Heat Quickly and Evenly 

Ionic Thecnology
The oval hot airbrush creates lovely curls at the ends as it can be placed closer to the scalp for incredible volume. 1100 watt power provides the right heat for all hair types. You can create a cute hairstyle within minutes. The hair should be towel-dry and separated into sections.
Even though it is suggested you can use it on wet hair, it is better to leave your hair air dry and they start working with the brush.
The price of this hot air brush is a bit high. The unique shape and the ion technology make it equal with the other brushes, but it is noisy, and the brush is not removable.
If you have long and thick hair, this brush might be a great solution to add more volume to your hair. John Frieda electric brush is not only the best seller, but it is also one of the most popular among bloggers and influencers. It has an ionic technology for frizz control and a titanium ceramic coating on the barrel.
John Frieda is a beauty brand known for fantastic hairstyle products. So it is not a surprise that for a reasonable price you get a brush that will make your mornings easier and your hair smoother.
Best For Dry Hair
Removable  Filtre for Easy Clean up
Use It for All  Types Hair
Tangle-free Antistatic Bristles
Ion technology helps your hair become silky and frizz-free. That is the main characteristic of this rotating hot air brush. It has two-speed settings, as well as 3 heat options. Low-heat is ideal for fine, delicate hair, while the high-heat is perfect for thick and long hair.
If you opt for this hot airbrush, make sure to have your mirror close to the plug in the wall. The cord is not very long. However, its rotating function and the possibility to remove the brush are enough to fall in love with this beauty item.
Best For Short Hair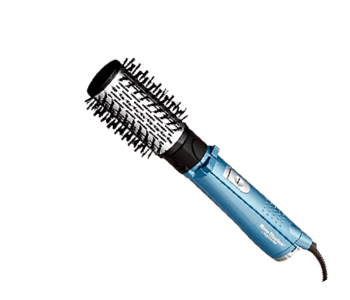 3 Temperature Settings

Ionic Technology and Anti-static Bristles

Ceramic Coated Barrel
The brush is rotating multidirectional. It has a titanium coating, which is perfect for protecting your hair and making it shiny and silky. There is only one button, and it is placed in the right place on the handle.
For this expensive brush, it doesn't give anything more than the cheaper priced ones. The barrel is wide, so expect only loose and large waves. However, the design of the handle is good; you won't have a problem holding it.
With this hot air brush, you get two barrels instead of only one. It is perfect for getting both defined and large voluminous curls. Dual voltage is excellent if you travel abroad. You can use it in both the USA and Europe. This curling brush will leave you with beautiful waves in no time.
It is a perfect brush for both types of curls. It is also suitable for all hair lengths – different sizes of barrels are great to achieve lovely curls for all hair lengths.
Best For Short & Medium Long Hair
This brush is ideal for travel. It is lightweight and the barrel is removable. It has two heat settings – low and high. The barrel rotates and gives you wonderful curls in seconds.  The swivel cord is tangle proof and the handle seems comfortable.
This is a decent product, but it will not give you styling like at the salons. It is there to help you brush and dry your hair quickly without too many complications. The price is very reasonable.
This hot air brush has the 1-inch long barrel and soft bristles that should prevent tangling. On the handle, you can find the buttons for heat and speed. They suggest using high heat on thick hair and low heat for thin hair.
If you have short hair, then you should definitely opt for a hot air styling brush like this. The wattage is low, so don't expect too much. It is perfect for smoothing and creating a quick hairstyle.
Benefits of Hot Air Brushes
Unlike an iron, the hot air brush will leave your hair looking smooth with an enormous volume. This product will prevent the frizz that can occur during humid weather. Irons can leave your hair too flat. With the hot air styling brush you can roll the hair ends effortlessly.
This product is great for traveling. Instead of carrying a blow dryer and an iron, you have a 2 in 1 item and more free space in your bag.
How to Use Hot Air Brush?
Categories of Hot Air Brushes
There are a lot of different types of hot air brushes on the market. Some of them are easier to use, while others require more time and practice. The rotating hair brush might be one of the most popular and definitely the most practical. It gives the hair a volume in no time.
Interchangeable brushes are great for achieving different types of hairstyles with only one product.
All girls hate having their hair become tangled. That is why tangle-free hot air brushes are perfect – they have a button that releases the hair.
Which Type of Hair is Best for Hot Air Brushes?
When you decide to buy a hot air brush, be careful. Choose the product that is suitable for your hair type as well as with the length of your hair.
If you have thin hair, a hot air brush for volume can be a real hit. It will add volume to your thin hair. However, don't forget to use a volumizing mousse or a spray before styling.
For curly and frizzy hair, hair experts recommend using flat irons. The hot air brushes will not give you straight hair. The round brushes can only curl your ends even more.
Always be careful with damaged hair. Try not to use irons and brushes too often as they can damage your hair even more. Adjust the temperature and make sure it is not too hot.
Purchasing the Hot Air Brush: What to Look For?
Heat and speed selection – buttons that can adjust the temperature are crucial for not burning your hair
Barrels and bristles – choosing the right size of barrel will provide you with different types of curls. You should check out if the bristles are made of nylon or plastic.
Rotation – it is up to you to choose the rotation function. You can have it rotating both ways, in one direction, or turn off this function completely.
Power – are they powered by electricity or the interchangeable batteries?
Weight – the lighter, the better for your wrists.
Wet Styling – you can't style wet hair; you should dry your hair about 80%, and then start working with the hot air brush.
Conclusion
As you can see in the best hot air reviews, they all have some features in common, but they can also be very different. Always check out if they are tangle and frizz-free before buying one. Having the protective coating is also very important. That way you will keep your hair styled and healthy at the same time. Compare the prices, pros, and cons that we have mentioned in the reviews.