Home to country music and hot chicken, Nashville is one of the most diverse cities in the world and an ideal place for a nice dose of Southern hospitality. Besides its vibrant food, rich music heritage, and entertainment scene, Nashville is also known for its distinctive fashion. Over time, Nashville's fashion has evolved from cowboy to hipster and boho chic. 
The signature Nashville style is casual but trendy, and you'd want to look your best when you're there. You certainly don't want to appear out of place at a local restaurant or one of Nashville's many famous music shows! If you're planning a trip to Music City but don't know what to pack, here are some tips on how to dress in Nashville. But first, let's go through the essentials of Nashville fashion.
Nashville Essentials 
Hats
One might think otherwise, but cowboy hats are not a modern-day Nashville staple! Yes, hats are a big part of Nashville's everyday fashion, but there are all kinds of them to choose from. Straw, wide-brim, floppy, sun, and fedora-type hats are all popular choices that go with any outfit. Instead of the traditional cowboy hat, try opting for a more modern alternative. 
Boots
While it's tempting to reach for the cowboy boots when in Nashville, wear low-heel booties instead. Not only are they more practical, but they can be styled with everything from dresses to jeans. 
Denim
In Nashville, there's no such thing as too much denim. Want to pair a denim jacket with denim jeans? Go ahead! An excellent alternative to this is a denim shirtdress or jumpsuit. In any case, denim is a classic wardrobe choice that never goes out of style.
Accessories 
Without the right accessories that complement it, an outfit is incomplete, and Nashville is big on them. Don't be shy to flaunt that statement neckpiece when you're there! You can also wear dangly or hoop earrings as they are loved by many. Add a few rings, bracelets, or a watch to complete your look. 
Seasonal Attire
Nashville is a great travel destination for any time of year. The city has all four seasons in a year without any of them being particularly harsh. It is important to keep the season in mind when packing for any trip. Consider the timing, purpose, and length of your visit and plan your outfits accordingly. For summer, winter, fall, and spring, here are several Nashville outfit ideas.
In Summer
Summers in the South are notorious for being hot and humid, and Nashville is no exception. If you want to experience the summer festivals and shows, there's no better time to visit Nashville. Casual never goes out of style in this city, especially when accessorized with trendy belts, hats, and jewelry. 
Denim Shorts 
This type of weather calls for denim shorts with a simple tank-top or graphic tee. Denim shorts are best paired with sneakers or flat booties. If you like, you can also wear knee-high boots. Add a belt, a beaded necklace, and some shades to complete your look. 
Jeans 
A pair of good jeans is a safe bet for any season. They're always in trend and versatile enough to be styled with just about any top. You can pair your jeans with a knotted shirt, a casual tee, or a lacy top to add some flare. Finish with a pair of pointed white booties and a fedora. Accessorize lightly. 
Romper
Rompers are all the rage right now. They come in a variety of styles and are generally comfortable to wear. Rompers made of light fabrics are ideal for the summer. Pair them with low-heel booties, wedges, or sneakers. Throw on a wide-brim hat and matching accessories to finish the look. 
Sundress 
Light and flowy sundresses are the perfect Nashville summer attire. Not only are they fashionable, but also comfortable to carry. If they're on the longer side, try wearing sandals or sneakers. Otherwise, pair them with low-heeled booties or wedges. A straw hat and a matching belt will complement the look! 
T-Shirt Dress
T-shirt dresses make for a great casual but cute outfit. The best part? They can be paired with anything! Throw on a denim or leather jacket on top and you're ready to roll. They look equally good with a pair of sneakers, flats, or ankle booties. Accessorize with a straw crossbody bag. 
Flannel Shirt
A flannel shirt with dark denim jeans is an excellent option for those who desire comfort but want to look stylish. There are many ways to incorporate flannels into your outfits. It can be worn alone, over a t-shirt, or tied around your waist for an extra something. Whether you're wearing jeans, a skirt, or a dress, a flannel shirt goes with everything! Add a bucket hat and some lovely sunshades to complete the look.
In fall 
Fall is an excellent time to visit Nashville since the weather is at its most pleasant. As the temperature begins to cool, the summer green of the trees gives way to fiery fall colors. A loose-fitting maxi dress is always a good option for this time of the year. Since yellow, orange, red, and brown are the perfect shades for fall weather, opt for clothes that fit this palette. 
Maxi Dress 
Maxi dresses are feminine and flirty, and effortless to style! They're the ideal fall outfit and come in a variety of colors and styles. Pair them with a belt, a straw hat or fedora, and some wedges. Alternatively, you can wear ankle booties. With simple black or brown accessories, maxi dresses look stunning. Accessorize with a tote or saddlebag to complete the look.                                 
Denim Jacket 
A denim jacket is a must-have for your wardrobe, and it's ideal for layering with other clothes in the colder months. It's the perfect addition to any Nashville outfit and can be styled with everything: jeans, skirts, dresses; you name it! For that classic look, pair a denim jacket with matching denim jeans and a white tee. Wear your favorite ankle or flat boots in neutral shades and accessorize lightly.          
Puff Sleeve Top
Are you tired of the same old shirts and blouses? Jazz it up with a puff sleeve top that can be worn with jeans or skirts! The lovely sleeves give your clothing a dreamlike feel. For a more structured look, feel free to tuck them in. Accessorize with a matching belt, crossbody bag, and sneakers. This outfit would look amazing with a straw hat. 
In Winter 
Nashville winters are typically mild and enjoyable. The colder months are still bearable, and you rarely require heavy winter wear. However, because it may get chilly at times, it's advisable to layer up in this weather. Winters in Nashville can also get quite wet, so it's wise to carry an umbrella and rain boots. 
Overcoat
Overcoats are a winter essential. Not only are they a necessity for the colder months, but they also add elegance and sophistication to your overall appearance. It's wise to carry a brown or black overcoat when traveling in the winter. They look well with jeans, short skirts, turtlenecks, and basic tees in neutral colors and can be paired with ankle or knee-length booties. Layer them over a cardigan or sweater.                                     
Long Cardigan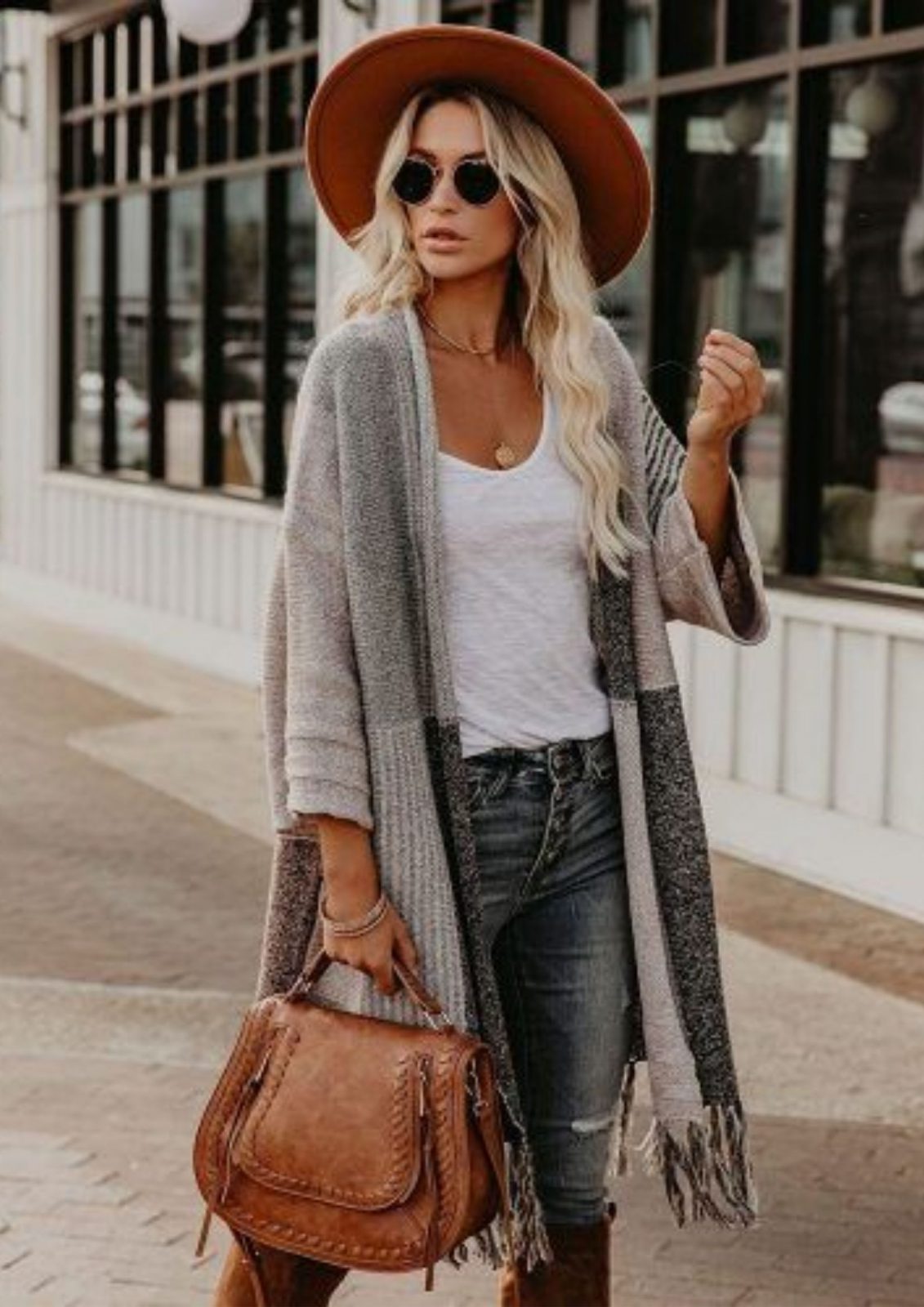 Long cardigans are functional and fashionable. They are perfect for layering over a dress or top. Pair your long cardigan with some leggings, skinny jeans, or a slip dress. Throw on some sneakers or lace-up boots to complete the look. Tie everything together with neutral accessories like a hat, sunglasses, and light jewelry. For extra warmth, add an overcoat on top.  
Striped Sweater
Striped sweaters come in a variety of designs and colors, and they're very easy to style. Style them with light-washed jeans and add some basic accessories like a straw bag and hat. Throw on a pair of sneakers or ankle booties to finish the look.                                      
Corduroy Jacket
Everyone should have at least one corduroy jacket in their closet. They're not just functional but fashionable too when paired with the right items of clothing. Combine a brown corduroy jacket with black jeans or a short skirt and a black or white turtleneck for a classic look.                              
Leather Jacket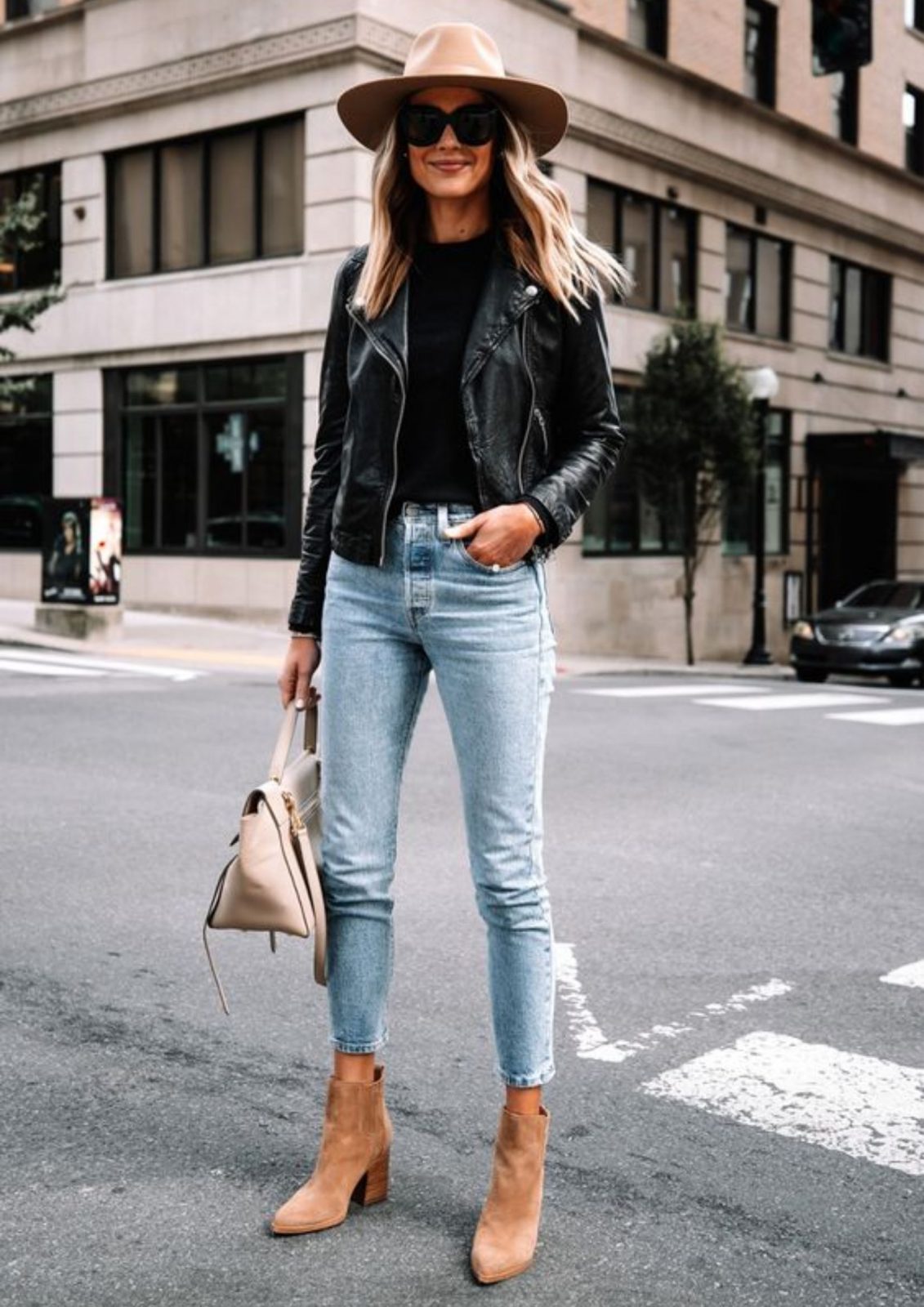 In the winter, leather jackets are a staple. To fight the winter chill while looking your best, don't forget to pack one with you when you travel. Pair them with mini dresses, tops, and skinny jeans to amp up your look. Finish with matching pointed or ankle booties and the accessories of your choice. 
In Spring
Nashville in the springtime is wonderful. There is never a shortage of things to do in Nashville during these months. As the weather finally starts to warm up, outdoor dining and activities commence. This is when Nashville's famous music shows and concerts also begin. Spring wear is meant to be colorful and exciting, so don't be scared to incorporate different hues into your outfits. 
Midi Dress
Floral printed midi dresses are the perfect attire for Spring. They are available in a variety of vivid colors and designs, and they are quite comfortable to wear. Midi floral dresses are best styled with sandals or wedges and some light jewelry. Add a tote or crossbody bag to complete the look. If it turns cold in the evening, throw a leather or denim jacket on top. 
Pleated Skirt 
Pleated skirts are a great way to spice up your look. A colorful pleated skirt combined with a plain white or cream t-shirt is a stunning combo. Add some cute wedges or sandals to the mix, and you've got yourself an outfit!                                
Jumpsuit 
If you don't want to wear dresses or skirts all the time, consider wearing a jumpsuit instead. A jumpsuit is a versatile and comfy piece of clothing. It is appropriate for both casual and formal settings. Depending on where you're headed, you can wear sandals, sneakers, or heels. Complete your outfit with a wide-brim hat, a pair of cool sunglasses, and complementary jewelry.                  
Denim Overalls
Denim overalls are another way to incorporate denim into your outfits. They can be paired with a basic tee, a crop top, or a shirt. Bright spring colors look great with light-washed denim overalls. Throw on a pair of white sneakers, an optional hat, and you're good to go!
What To Wear To Downtown Nashville
Sequin Romper
Stand out in the lively streets of Downtown Nashville with a dazzling "Nashville Nights" sequin romper. This eye-catching piece captures the city's vibrant energy and is perfect for hitting the dance floors in the local honky-tonks. Pair it with statement cowboy boots adorned with metallic details for a glamorous yet Nashville-inspired look.
Graphic Tee and Denim Skirt
Pay homage to Nashville's iconic Music Row with a "Music Row Vibes" graphic tee paired with a high-waisted denim skirt. This effortlessly cool and comfortable ensemble is ideal for exploring the city's music scene and trendy coffee shops. Complete the look with suede ankle boots and a stylish fedora hat for a touch of Southern charm.
Top and Fringed Shorts
This fun and playful outfit is perfect for enjoying live music and mingling with locals. Add a touch of bohemian flair with suede ankle booties and layered necklaces, creating a look that seamlessly blends modern trends with Nashville's eclectic style.                  
Outdoor dining and live music are extremely popular in Nashville, and tourists love them! Whether you're visiting Nashville's famous music shows, clubs, or dining at a local restaurant, you can dress up or dress down depending on where you're headed. The dress code is pretty laidback for most places. You can wear dresses, jumpsuits, jeans or shorts if you're comfortable. With the right accessories, you will fit right in! Don't forget to carry your essentials in a fashionable but functional bag when you're exploring this beautiful city. Now that you've decided on your outfits, time to make the most of your stay in Nashville!